The leading Tree service in Devonport
Tree Removal Devonport
Call our expert arborists today for a free tree service quote! Affordable and reliable. Licened & insured.
03 6318 3726
Thank you! We will get back in touch with you within 48 hours.
Oops! Something went wrong while submitting the form.
Affordable Tree Services Devonport TAS
We are Devonport Tree Service, the number 1 tree cutting service in Devonport!
Do you have a tree that has outgrown it's space? Maybe it's too close to your home and endangering you and your property? Or is it dying and full or pests, needing to be removed before the disease spreads to neighbouring plants? No matter the reason, our certified tree cutting and Tree Removal Devonport experts are your trusted professionals for the matter! Highly experienced and sought after in the Devonport area, we have been performing tree felling and related activities for many years and absolutely love what we do. We offer a comprehensive range of tree services, including tree removal, tree pruning, tree trimming, tree cutting, emergency tree removal, tree lopping, stump removal, stump grinding, and tree surgeons. Simply put, we are the best tree service company in the North West Tasmania region.

Our team of highly trained arborists all share the same deep passion for tree care, being one of the mains reasons we attribute to our success as your favourite Devonport tree company. We have the skills, technology, equipment, and manpower to complete any tree service job, no matter the size! We have the ability to take down any size tree, no matter how large it is, as well as trees close to powerlines, buildings, and homes. You don't have to stress about a tree falling and damaging your property in the process of tree removal, our level of skill can assure you that we can safely dismember every part of the tree and remove it from your property, free from harm. It's our genuine love for tree health and arborist services that makes Devonport Tree Service the number one tree removal company in North West Tasmania!

Why trust our Tree Services Devonport
Safe Arborist Practices - Safety always comes first
Safety is number 1. Our skilled arborists Devonport possess the knowledge and expertise to identify potential trees or branches that are a risk and remove them efficiently. Say goodbye to those worrying overhanging limbs or weak trees that could pose a threat to your property and loved ones.
Experience and Expertise
Entrust your tree removal needs to a company with a wealth of experience and a team of qualified arborists. We have a proven track record in successfully handling a wide range of tree pruning and removal projects. Our expertise will ensure that your trees are expertly assessed and safely removed, leaving you with peace of mind.
Certified & licensed
Our certification demonstrates our commitment to professionalism and adherence to arboricultural standards. Being insured ensures that you are protected from any potential damages or liabilities that may occur during the tree removal process.
State of the art equipment
Our team is equipped with the latest state of the art equipment and machinery allowing us to complete your job fast, efficiently, and with expert quality. We invest in the best machinery as we believe that the customer satisfaction that it allows us to bring pays off in the long run!
Highly Skilled & Certified Arborists Devonport
Tree Service Devonport - The leaders in tree solutions
Being the leaders in all tree preservation solutions, Devonport Tree Service are your answer to any tree related need. We are 100% committed to providing you with safe, reliable, and expert quality tree services in Devonport. Growing up in Tasmania, we have a deep love and connection with our small town and are dedicated to deliver a service that makes a genuine impact on the community.

All of our certified arborists are just as qualified as the next as we carefully vet all of our employees to make sure we are equipped with the best! Our high levels of training, combined with our arsenal of industry-leading equipment and machinery allows our company to handle any tree service job you throw at us! Looking to remove a large tree? No worries. Need those pesky overgrown branches trimmed back? Not a drama. Maybe there's a job too big for your trusty chainsaw? Our arborists are here to do the jobs that you can't do and remove any risk of damaging your property in the process.

From start to finish, our tree removal process is made seamless and effortless for our customers. We book you in based around your schedule, give you an honest tree risk assessment, listen to your needs, show up on time, complete the job efficiently, and clean up after ourselves when the job is done. Providing high quality, expert tree services that exceed customer expectations every single time is what we do best.
03 6318 3726
Top Notch Tree Experts in Devonport
CALL US NOW FOR A FREE QUOTE
03 6318 3726
Tree Removal Devonport
Are overgrown trees casting shadows on the beauty of your property? If you are looking to create a breathtaking outdoor space, our skilled arborists are equipped with state-of-the-art tools and years of experience to safely and efficiently remove any unwanted trees. Whether it's a single tree or a full-scale project, we have the expertise to handle it all. No job is too big or small for our team, we can handle it all... especially the dangerous tree removals that other mobs can't do.

Knowing when to remove a tree can be hard and biting the bullet to get it removed can be quite stressful. From picking the right company, to making the decision, it is always a difficult choice to be made. When you're faced with such a tough choice, our certified tree removal arborists are here to help assess, evaluate, and give you a plan of attack based on your situation. We always want what is best for you and your trees, and at times that means removing the tree completely. Whether you have dangerous trees that put your home or business at risk, or trees infested with pests and diseases, we approach each job with a unique outlook depending on your scenario.

Don't let unwanted trees stand in the way of your property's potential. Contact us today and let our professional tree removal services Devonport transform your landscape into a masterpiece.
Emergency Tree Removal
If you've been struck by a storm or high winds and have been left with a fallen tree in your yard, our team is available 24 hours, 7 days a week, to come and remove the fallen tree from your property. Whether it's an entire tree, or a large branch, we are your storm response tree removal experts in Devonport! For all 24 hour emergency tree services, Tree Service Devonport are here to help. Give our team a call today.
03 6318 3726
Certified Tree Pruning & Tree Trimming
At Devonport Tree Service, we understand the art and science behind tree care, providing 100% industry certified tree pruning Devonport. Our skilled climbing arborists are trained in the latest techniques to prune and maintain trees with precision and expertise. With an expert approach to tree pruning, we selectively remove branches to improve tree structure, eliminate dead or diseased wood, and stimulate healthy growth so your tree looks and feels amazing for years to come!

Whether you're looking for crown reduction, crown thinning, or crown raising, our team of experts utilise advanced trimming techniques to sculpt your trees into breathtaking works of art. Whether you desire a more compact shape, improved light penetration, or clearance for building and structures, we have the skills to achieve your vision. Our qualified tree pruners Devonport is here to elevate your landscape and make your trees look amazing again! For residential and commercial tree pruning Devonport, give our team a call today.

Why is regular tree pruning important?
Pruning is crucial for maintaining the health and vitality of trees. It allows better air circulation and sunlight penetration, which are essential for proper growth and tree health. Pruning also helps to shape the tree, preventing overcrowding and maintaining a balanced structure. Removing dead or diseased branches reduces the risk of pests and diseases spreading to other parts of the tree.

Benefits of tree pruning and maintenance
Correct tree trimming and maintenance makes your trees look stunning, but proper tree pruning goes beyond just aesthetics. It is a vital aspect of tree care that promotes healthy growth and longevity. By removing dead, damaged, or diseased branches, we eliminate potential hazards and prevent further damage that could happen to your property. This proactive approach helps your trees thrive, reducing the risk of breakage during storms and improving overall structural integrity.

03 6318 3726
Stump Removal Devonport
If your yard has an ugly stump sitting in it, rotting away, then it is time to hire a professional stump removal service to come and remove it from your property. A stump can be an unattractive eyesore in an otherwise beautiful garden, and can also be a dangerous trip hazard as well as an annoying obstacle. We offer comprehensive tree stump removal services that grinds away your pesky stump without harming the rest of your yard or property.
Expert Stump Grinding Devonport
Our stump grinding Devonport service utilises the latest stump grinding technology to grind your tree stump to nothing. No matter how hard your stump is to access or where it is located, we have a large fleet of different sized stump grinders for every specific application. If you have a stump in your yard that needs to be removed, reach out to our professionals who have the experience of removing thousands of stumps over the years. For expert stump grinding in Devonport, call our experts today!
03 6318 3726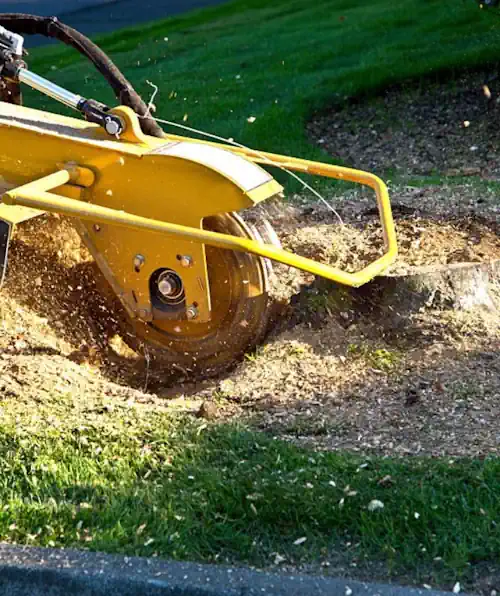 Arborists that provide peace of mind
Why take the risk with amateurs when you can have the best? Hiring our professional tree removal services in Devonport guarantees an exceptional experience from start to finish. We prioritise customer satisfaction and ensure that every step of the process is handled with utmost care and professionalism.

If you're seeking reliable and top-notch tree lopping services in Devonport, look no further! Contact us today and let our experts work their magic on your landscape and home. Experience the beauty, safety, and peace of mind that our professional tree cutting services can bring to your property. Reach out and speak with our expert arborists today for a free, no-obligation quote on your next tree service.
03 6318 3726
FAQ's
How much does tree removal in Devonport typically cost?
How often should tree pruning be done?
What areas do you service?
Can I remove a tree myself in Devonport?
Testimonials
Check out some of our raving 5 star tree service reviews over the years.
I highly recommend Devonport Tree Service for their exceptional service. From start to finish, their team demonstrated professionalism, skill, and a commitment to customer satisfaction.
I am absolutely thrilled with the tree pruning service we got for our home! My once overgrown and untidy trees now look like works of art, all thanks to their skilled team. What a good bunch of boys too!
I can't speak highly enough of the team at Devonport Tree Service. When I needed a large, unhealthy tree removed from my front yard, they came to the rescue. Their expertise and attention to detail were evident throughout the process.
After a recent storm wreaked havoc on my property, I was left with fallen trees and branches everywhere. I reached out to Devonport Tree Service, and their response was immediate. They got rid of the tree and left my yard looking amazing. Highly recommend.